Vit-C Boost
If you're in need of an immune system boost
then this juice is for you! Simply juice all
ingredients, pour and enjoy! 
150g blackcurrants

150g redcurants

2 kiwi fruits (peeled)

2 oranges (peeled)
---
The Energiser
This vegetable juice is simple to prepare
and provides a yummy vitamin overload to
get you back to peak performance! 
1 cooked beetroot, peeled and trimmed

2 carrots, peeled and trimmed

100g baby spinach

1/4 cucumber
---
The Mum-to-Be
Did you know that folate (folic acid) is
essential for healthy foetal development?
Both mum & bub will benefit from this juice. 
4 small broccoli florets

3 apples

Juice of 1/2 lime
---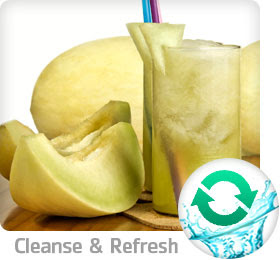 Cleanse & Refresh
Detoxify your system and cleanse the body
while enjoying a refreshing drink. Add 15g
of wheatgrass for an additional boost. 
2 apples

115g peeled honeydew melon chunks

1/4 cucumber

50g watercress
---
Healthy Hydration
This juice is a hydrating beverage with an
added bonus: nutrients! Liven hydration
with this easy to prepare recipe! 
1 apple

1 carrot (peeled and trimmed)

2 celery stalks

225g mixed berries

2cm root ginger